Ensign Cowell is a founding member of the Tower team. He has managed investments for more than 25 years primarily as a Principal at Greenleaf Capital Management until June of 2008. He entered the investment management business in 1980 after a 15-year career at TRW, Standard Oil of Ohio and finally as chief financial officer of Hospitality Motor Inns.

Underneath his decisiveness is purposeful and unending preparation: four decades of business experience, degrees in economics and business from Dartmouth College and the University of Virginia and an unflagging interest in the events of the world. Meet him, and you'll sense his interest in your experiences and knowledge. That curiosity, he believes, makes a critical difference to clients at Tower Wealth Management LLC, the private wealth management firm he started in 2008.

"Every person should clearly understand the details of his or her finances, but few actually do," he says. "Here, we do it. We find out who you are and who your family is and about your business and career."

"What you want to do? How much longer do you want to work? How much risk do you want to take? What do you want for your family now? How would you like them to be cared for and treated after you're gone?"

Uncovering a client's real needs is the first step. Creating for them a wealth management program that fulfills those needs and adjust as situations change over a lifetime is the next. Still, from his nature and corporate experience, Ensign knows knowledge alone is not enough to serve clients with excellence. You need a plan and the will to act.

"In this business, everyone knows, or says they know, the right answers. The difference between companies, and it can be huge, is the difference between what they say and what they deliver. There is an art and a science to portfolio construction. Instinct and experience matter. You can't just get a degree and know it."

"We have a philosophy and process we've followed from the beginning," Ensign says. "It is realistic and thorough, but I wouldn't want anyone to think it's magic. The investment business might be the biggest unsolved puzzle in the world. We want clients to sleep soundly in their comfort zone."

"To that end, we are risk averse, contrarian, diversified and quite thoughtful about investments. We don't concentrate portfolios or make radical shifts in market timing. For retirement investing, we believe these approaches introduce extra risk and are generally unreliable."

Values he has never doubted are professionalism and integrity. "We're in the personal service business. Empathy matters. You must be analytical and caring. When I go through a good workup with a client, I think they are clear that I'm looking to understand their whole situation."

Ensign earned a bachelor's degree in economics from Dartmouth College and a Masters in Business Administration from the Darden School at the University of Virginia. He became a Chartered Financial Analyst in 1985 and a Chartered Investment Counselor in 1986. He is currently a member of two philanthropic organizations, the Giving Back Gang and Social Venture Partners, and serves on the advisory committee to the Cleveland Psychoanalytical Foundation. Ensign serves or has served as: a trustee of the Economics America program at John Carroll University; on the advisory committee to the Cleveland Psychoanalytical Foundation; on vestry, endowment and other committees at St. Paul's Episcopal Church in Cleveland Heights; and on school levy committees and other community organizations. He is an avid golfer and member of the Madison Country Club, which he frequents during his summers at his family's cottage on Lake Erie.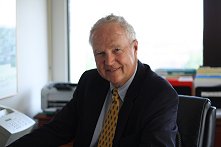 Tower Wealth Management, LLC, from 2008
Greenleaf Investment Management & Counsel
Hospitality Motor Inns
Standard Oil of Ohio
TRW Inc.
M.B.A., Darden School, University of Virginia